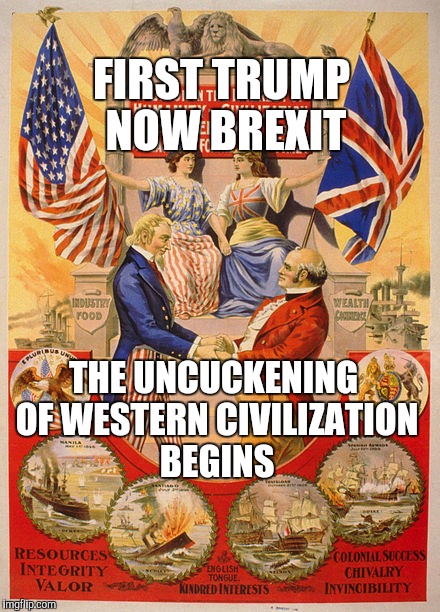 Well, well, well. Look what happened this week… Unless you are a Buddhist monk on an isolated hillside, meditating, while gently clutching your prayer beads-then you must know by now that Article 50 was officially triggered this week by our Prime Minister, Theresa May. Brexit has begun. Or rather, the process of Brexiting has commenced. Please know that the said process will be a long one. An exhaustive one. A terribly complicated one. You ready? You better be. I know, I am. Here we go. Let the games begin.
This week, our Theresa, formally launched Brexit. Please tell me that you are familiar with Brexit, or we simply cannot be friends. Sorry, not sorry. Anyhoo-Britain has officially launched the Brexit process in triggering Article 50. This simply means that Britain will now start a 2 year count down until before Britain drops out of the EU. Later, Brussels…it has been real….it has been fun but it has not been real fun. We are done. We are so done as we cast off the manacles of the EU. We ready. And besides, the people voted in the referendum which subsequently caused this. I hope our former Prime Minister, David Cameron is happy-he never should have even mentioned it. But he did. And now we are all miserable to be leaving (most of us) and our Cameron is quite pleased with himself. But history, will only remember him for this. And to me, that is quite sad. But, I digress.
Now for some quotes re Brexit:
Prime Minster Theresa May said:
"This is an historic moment from which there can be no turning back – Britain is leaving the European Union – we're going to make our own decisions and our own laws, we're going to take control of the things that matter most to us…and we're going to take this opportunity to build a stronger and fairer Britain that our children and grandchildren are proud to call home."
Well, now you would expect her to say that. Funny, coming from her as she was in the 'Remain' camp and adhered to the Party line which said that Britain would be better off remaining in the EU-but of course that was before she became Prime Minister . Oh, you didn't know we had a General Election? We did not. When David Cameron resigned approximately 2 min after the referendum results (which indicated that the people of the UK wanted to leave the EU), she became the new Prime Minister. No one even cast a vote. Ain't democracy grand?
Labour leader, Jeremy Corbyn said:
Labour leader Jeremy Corbyn said his party respected the decision of the British people to leave the EU.
"Today we embark on the country's most important negotiations in modern times.
"The next steps along this journey are the most crucial, and if the prime minister is to unite this country, as she says she aims to do, the government needs to listen, consult and represent the whole country, not just the hard-line Tory ideologues on her own benches."
Uggh. I can't even with this guy. Seriously, Jeremy Corbyn is completely and utterly shambolic. As leader of the Shadow government-he is diabolical and disastrous in equal measure. And I am being nice. Oh, please know-that I am not alone in thinking this.  To be fair, he has made a fair comment. But honestly, Jeremy…we already knew this stuff. So, stop with the sound bites and go on and unite  your Party. You have been told. That is all.
German Chancellor, Angela Merkel said:
"We Germany, but also Britain's other partners in the EU, certainly didn't want this day to come because we're losing a strong and important member state. But naturally we accept the democratic decision of the British voters, and with the triggering of Article 50 we now have greater clarity about how the British side envisages the way ahead and which goals Britain wants to pursue in the negotiations."
Thanks for saying that Angela. You speak sense. I would rather listen to you wax lyrical on Brexit than Jeremy Corbyn. Truth.
                                                                                                           Image: The Daily Express
Scottish First Minister Nicola Sturgeon tweeted:
"Today, the PM will take the UK over a cliff with no idea of the landing place. Scotland didn't vote for it and our voice has been ignored."
Calm down, dear. That is all.
European Council President Donald Tusk said:
"There is nothing to win in this process – and I am talking about both sides. In essence, this is about damage control.
"We already miss you. Thank you and goodbye."
                                                                                                                   Image: The Telegraph
Hmm…how very diplomatic of Donald Tusk. Diplomatic, yet tinged with slight undertones of arrogance. Me no like. Sorry, Donald-your precious EU is breaking up and there is nothing you can do about it. Ever. Peace out.
Gina Miller said: (the businesswoman who brought the landmark legal challenge to get Parliament to vote on whether the UK could commence the process of leaving the EU. Home-girl, took it all the way to the UK Supreme Court)
"There seems to be very little understanding of the reality of what's going to face us in these negotiations.
"It seems to be 'Mrs May's way or no way' – that closed stance is not best for the whole of Britain".
Oh Gina, Gina, Gina…stop talking. You have done enough harm. For real. Besides, we are quite aware that post Brexit means uncertainty for Britain. Duh.
So, that's it. People from various political parties reacted to the triggering of Article 50. Of course, there were more reactions, admonishments and warnings and you can read them here. Knowledge is power. That is all.
Cheers