Image: Astral people
Meet Stormzy. He seems nice. Michael Omari was born 26 July 1993 and is better known by his stage name, Stormzy. Stormzy is an English grime* and hip hop artist. Stormzy won Best Grime Act at the 2014 MOBO Awards and was named by the BBC as the artist to look out for in the BBC's Sound of 2015 list. Respect. Stormzy's most successful song to date is the gold-selling "Shut Up"-which was initially released as a freestyle on YouTube. Later the track was officially released and reached number 8 on the UK Singles Chart after Stormzy launched a campaign to reach Christmas number one.
Stormzy's debut album, Gang Signs & Prayer was released on 24 February 2017 and was the FIRST grime album to reach number 1 on the UK Albums Chart. Wow. Just wow. How awesome is that? Pretty awesome, if you ask me.
                                                                                                                                                             Image: Dazed
Early Life
Stormzy  hails from Thornton Heath, London and attended Harris Academy South Norwood. He began rapping at age 11 and would often clash with older rappers at his local youth club. In school, he was excluded several times in Year 8 and was expelled in sixth form. Sorry people-Year 11 and sixth form is like Greek to me-the English school system is confusing to this American blogger. So, do ask someone elsewhat Year 11 and sixth form are-along with what the corresponding ages are. And when you find out…do let me know. Please and thanks. But, I digress…
Anyway, back to Stormzy…so, before he began to focus on his music full-time, he studied for an apprenticeship in Leamington Spa and worked in quality assurance for 2 years in an oil refinery in Southampton.
Music Career/2014-15
Post garnering attention on the UK underground music scene via his Wicked Skengman series of freestyles over classic grime beats, Stormzy released his debut EP Dreamer's Disease independently in July 2014. Then in October, Stormzy won Best Grime Act of the MOBO (Music of Black Origin) awards. Later, that month our Stormzy became the FIRST unsigned rapper to appear on Later with Jools Holland where he performed the song "Not that deep" from Dreamers Disease. Wow. What an incredible achievement to appear on Later with Jools Holland. Massive respect.
In January 2015, Stormzy came number 3 in the BBC Introducing… top 5 on Radio 1. IN March 2015, Stormzy released a final instalment to his 'WickedSkengMan' freestyle series-it later appeared with 'Shut Up' on iTunes and 'Shut Up' became Stormzy's FIRST top 40 hit and FIRST ever freestyle to reach the top 40 in the United Kingdom. If you are not yet impressed by Stormzy's musical achievements then it is entirely possible that we cannot be friends…just sayin.'
2016-present: Gang Signs & Prayer
In April 2016, Stormzy dropped the non-album song "Scary" before he went into hiatus. Then after a year's hiatus from social media (something we should all consider doing) Stormzy returned in early February 2017 via a series of billboard campaigns across London displaying the hashtag #GSAP 24.02. The album title was announced to be: Gang Signs & Prayer. The album was released on 24 February 2017 and debuted as number 1 on the UK Albums Chart on 3 March.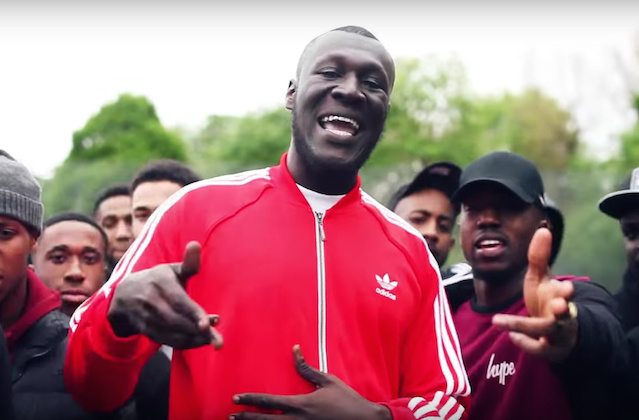 So, there you g0…some background about our Stormzy. In short, he is a BOSS and his career is going from strength to strength. Yay for him. Ok am done writing-so have a listen to him now in 'Big for your boots'. This type of music is not for everyone-but I hope you like it. If not, just know this…we still cool. Yup.
Cheers
*Grime is a genre of music that emerged in East London in the early 2000's. It actually developed out of earlier UK electronic music styles (UK garage, jungle and draws influence from Jamaica dancehall, reggae and hip hop). The style is often a composition of rapid, syncopated backbeats-and will often feature an aggressive electronic sound. Further, rapping is also a significant element of the style and lyrics will often revolve around the depictions of urban life.