Hello and hi. Are you familiar with our Tom Hardy? Have you seen any of his movies? TV series? Seen him on the Stage? No? Sheesh, am guessing the rock you live under is pretty big. I kid. If you don't know who Tom Hardy is (gasp) then fear not, I am here to help. You are welcome.
Edward Thomas Hardy or 'Tom'  was born 15 September 1977 and is an English actor and producer. Hardy made his debut in Ridley Scott's 2001 action film Black Hawk Down. Hardy's other notable films include:
Star Trek: Nemesis (2002)
The crime film RocknRolla (2008)
The biographical psychological drama Bronson (2008)
Inception (2010)
The sports drama, Warrior
The Cold War espionage film Tinker Tailor Soldier Spy (2011)
The biographical western thriller The Revenant (2015)
Busy man! In addition, he has been in loads of TV series, which include Legend, where he played BOTH Kray Twins (movie magic allowed them to act together as separate people-but it was the same person). Here is a picture from Legend: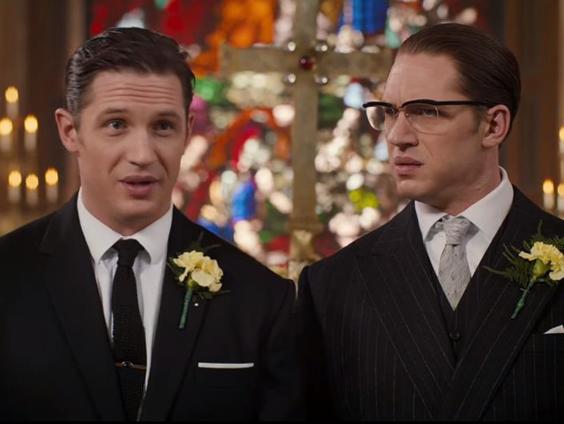 Image of the real Kray twins
Hardy is currently on the telly in Taboo. I didn't much like it at first-which was strange, me, being a fan of period dramas and all. But it is growing on me-Taboo takes place in 1814 in London (and America and England are at war-this is crucial to the plot) and follows a son who has returned to England, after a brief stint in Africa-who has returned to sort out his father's estate. So far it is pretty good although there is a fair bit of mumbling…but maybe that is how they spoke in 1814. Maybe. Anyway,  here is Hardy from Taboo. Great hat! In Taboo, he is a sulking, angry, intriguing badass. Yes. Yes, he is.  And also, like in his other films/tv shows, he is erm…'easy on the eyes' if you know what I mean. Yup.
In addition to Taboo-(which Hardy created, co-produced and played the lead), Hardy's other TV roles include: The HBO war drama series, Band of Brothers as well as Wuthering Heights and the BBC historical drama The Virgin Queen.
Early Life
Hardy was born in Hammersmith, London and was the only child of Anne (nee Barrett) an artist and painter of Irish descent and Edward Hardy, a novelist and comedy writer.  Hardy was raised in East Sheen London and studied at Tower House School, Reed's School and Duff Miller Sixth Form College (please don't ask me what Sixth Form College is-I have no idea. The British school system mystifies me. It sure does.) In addition, Hardy, to further his acting ambition studied at Richmond Drama School and later attended Drama Centre London (A British Drama School in Kings Cross, London).
Personal Life
Hardy married Sarah Ward in 1999, a producer, but the marriage ended in divorce in 20014. Then from 2003-2004, he was in a relationship with Korean-American actress Linda Park. Later in 2008, Hardy had a son with then-girlfriend, Rachael Speed, an assistant director whom he met on the set of The Virgin Queen in 2005. The pair separated in 2009 after 4 years together. In 2009, Hardy began a relationship with actress Charlotte Riley, whom he met on the set of Wuthering Heights. The pair married in July 2014 and in October 2015, the couple welcomed their first child together. Yay. Hardy, it seems, has FINALLY settled down.
In 2010, Hardy became ambassador for The Prince's Trust (a leading UK youth charity which provides training, personal development, business start up support, mentoring and advice). In 2012, Hardy and his wife, became patrons of Bowel Cancer UK.  In 2015, Hardy was named one of GQ magazine's 50 best dressed British men in 2015.
And that, my friends…is who Tom Hardy is. That is all.
Cheers