Hello and hi. When I get old(er), I hope that I look as good as Carmen Dell, pictured above. See how she is wearing black, lashings of black mascara along with a genteel smile? See how her hair is a bit of unruly mess? Well, let's just say that Carmen and I have plenty in common. You see, Carmen is 85 years old and while I am not, we have plenty in common. Yes, indeed.
With age comes experience, knowledge and with a plethora of memories so vivid, that it will make your teeth hurt. And I sincerely hope that you STILL have your own teeth at age 85. I like old people-I really do. They are funny and kind with a pretty acerbic (sharp and fortright) wit. I have a neighbour who is 96 years old-she always has an opinion about something or the other and she will always tell me off-whether I want to hear it or not. Plus, she gives me chocolate covered rice cakes and coconut water, when I pay her a visit. Surely, that is a measure of friendship? Yes, I think it is.
Lately, plenty OAP's (old age pensioners) have been in the news. But why? I mean, they had their time…and plenty of it, by the looks of their advanced age. Why not let some of us young bucks get a bit of the limelight? Come.On. For example, a lovely lady in a bikini recently shut down the internet. The lovely lady, Irene Carney, from Australia, is 90 years old. Please read that again. And if you don't believe me, take a look at the picture below.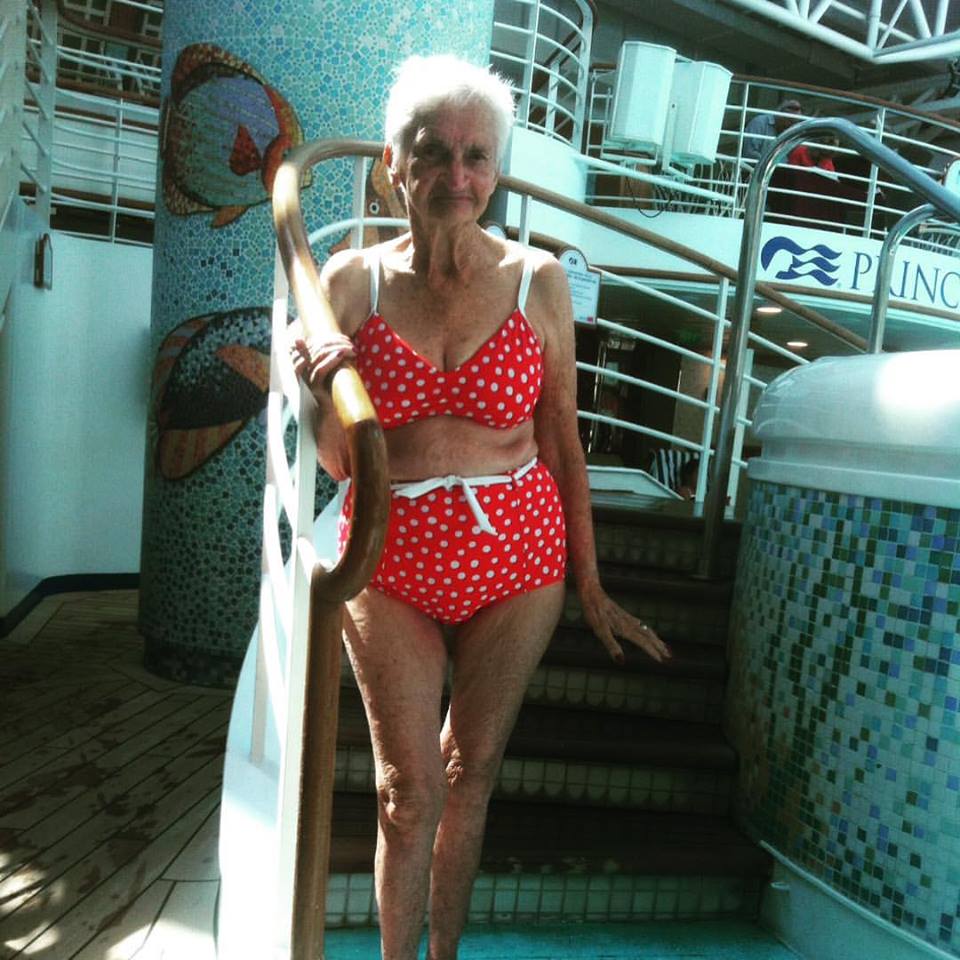 Irene really rocked that red bikini-am I right? I mean, when I go to the beach I just drape a fitted sheet around me. This is handy, especially if I want to take a nap- I just cover myself in it. I simply do not wear a bikini at the beach. I am all about fitted sheets (and I even know how to fold them).
So like I said, being old comes with a certain amount of experience. And of course, being old comes with having a bit of common sense. But clearly, some OAP's are not getting the email/fax/carrier pigeon/telegram. Allow me to get to the crux of this post (yes, finally). Ok, let's do this.
Over the weekend, a MAJOR rescue operation was launched after a microlight aircraft, PILOTED BY A 91 YEAR OLD man ( I mean,'fool') crashed into a tree in Edenbridge, Kent. What the what? The older chap, was in a microlight aircraft when he crashed into a tree, where he was trapped for up to TWO hours. Thankfully, he was freed by some considerably youngerfirefighters -and is understood to have suffered neck and chest injuries. Kent Fire and Rescue Service confirmed the aircraft crashed around 315pm. Well, at least it was during the day, and mid afternoon and the weather was probably mild.
Like I said, the old chap is ok and thanfully survived. That being said, I have a few questions:
What on earth?
Does this elderly chap have a wife, sister, children, grandchildren et al? I mean who actually allowed this?
Why wasn't anyone watching him? Old people need to be watched. I speak from experience. Right Mom and Dad? Yes, I am talking to YOU.
How could the British Micolight Aircraft Association (BMAA) allow this? Are they not responsible for flight training and other related matters? Is there NOT an age restriction? Please straigten up and fly right BMAA-if you know what I mean.
These are just a few questions that I had. But thankfully, 'Mr. I-Can-fly a plane-at 91′ is doing ok. I would just like to end here with this: You may say American's are crazy. But British people are crazy too. And you can take that to the Bank (of England).
Cheers