Hello and hi. I have been to the dentist more times than I care to admit. In addition, in my life I have FIRED 2 periodontists. Yes, yes I have. I mean…come.on. I may not be a qualified dentist but I think I know how to brush and deal with my gnashers (teeth). BTW, I hope you guys are flossing twice daily- because you really ought to. Really.
This story comes out of the US. Not my usual post-but any story dealing with dentists, I am kind of all over it. I am like the unofficial ombudsman of dentists here in the UK. Yes, yes I am. So check it, a pilot from VA recently removed his 7 year old son's tooth by tying it to his helicopter. Please read that sentence again.What the what? He hates his son? Was his son naughty? More importantly, the Mum allowed this? Or did she fear for her own teeth if she dared speak up?
Rick Rahim is a pilot and flies helicopters for a living. Rahim decided to take out his son Carson's tooth in a rather unique way…and later posted the video online for his online antics. Again, where was the Mum? Rahim said "Rick said: "We connected rope to fishing wire and tied that to his tooth. I got in the helicopter and up, up, and the tooth went away". Rahim lifted the helicopter approximately 5-10 feet in the air and backed away, removing the tooth. Thankfully, Rahim tested the method before using it on his son. He later commented, "We had one lady say, 'if it doesn't break you'll lift him up in the air!' – but we ran tests and the only thing that could have broken would be the fishing line".
Oh my word. Long gone are the days when your parents tied your tooth to a string attached to a door, then slammed it shut. Have I asked the pertinent question: where was the mum? In the finish, the tooth came out and son, Carson is fine. As for Rahim, well, his wife is none too pleased with him. The last I heard, Rahim is on the naughty step…shaking his head and grinding his teeth. Yes,  yes he is.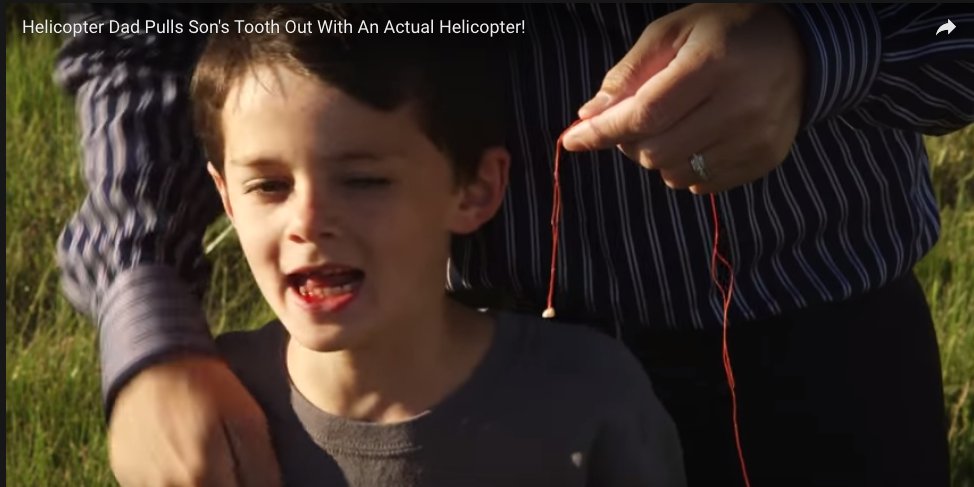 Cheers