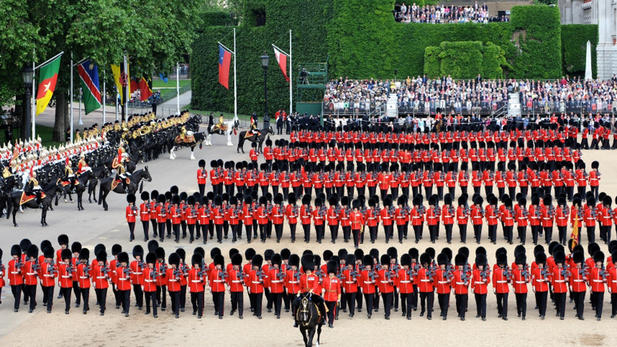 Hello and hi. Yesterday, the Queen observed the Trooping the Colour at Horseguards Parade. In brief, Trooping the Colour (pictured above) is a ceremony performed by regiments of the British and Commonwealth armies. It has been a tradition of British infantry regiments since the 17th century-although the roots go back much earlier. On battlefields, a remiment's colours or flags, were used as rallying points. While that is terribly interesting, and full of pomp and circumstance (which is fab) no one was thinking much about the historical origins or importance of this ceremony. That's because, all eyes were on Princess Charlotte, who was making her first appearance on the balcony. That little girl is just so cute. It was the first time the public has seen her since she posed with the Queen in April. Our Kate and William keep their kids Charlotte and George pretty much away from the press, which is good. Anyway, here are the pictures of this precious little human being. Enjoy.
As you can see, Harry has not shaved that beard of his. My only hope is that he does so…and soon.
Prince George is adorable!
As you can see, everyone had a pretty fun day. Except for one guardsman…poor chap. Yikes.
Cheers