Greetings and salutations. Today at the State opening of Parliament the Queen announced the government's legislation for the year ahead. In brief, the State opening is the formal start to the parliamentary year. Yeah. It was quite interesting and I will talk more about that in a 'mo' (moment).
First of all, you know I have mad love for the Queen. Really now, I admire and respect her in equal measure. Today marks the Queen's 63rd State opening. Wow, just wow. In her speech, the Queen encouraged ALL people in the UK to live within their means. Of course I am going to take advice from a 90 year old woman. Duh. I mean, she has lived and seen and experienced stuff that I have yet to live and see (but hope to live and see). But come. on. Live within my means? This coming from a nice old lady wearing a crown? Not just any crown but a crown that has 11 emeralds 17 sapphires 273 pearls 2868 diamonds. Yes. Kind of puts my fake pearl earrings to shame. But at least they look real. Yeah…real fake. Plus, the Queen post speech, saw her return to her gaffe/home via  a horse drawn carriage. In short, the Queen is living large and we all know it. Yes. Yes, we do.
The Royal Knees
In addition, the Queen for the FIRST time avoided the stairs and used the lift/elevator in Parliament. She like me, gets tired. I take the lift all the time. By taking the lift the monarch and Prince Philip avoided the 26 steps of the Sovereign's Entrance staircase. Many believe the decision to use the lift as the most public concession to her age yet. However, publicly the Queen has showed no signs of slowing down even though her royal knees have suffered quite a fair amount, as she has undergone TWO operations to remove cartilage from her knees.
But let it be known that the Queen puts the younger generation of the Royal Family to shame by carrying out more engagements than the Duke and Duchess of Cambridge and Prince Harry combined in 2015. Shame on them. Shame on our Kate too- I mean the Duchess of Cambridge. I mean, you are new to this family honey, you need to contribute. So, do it.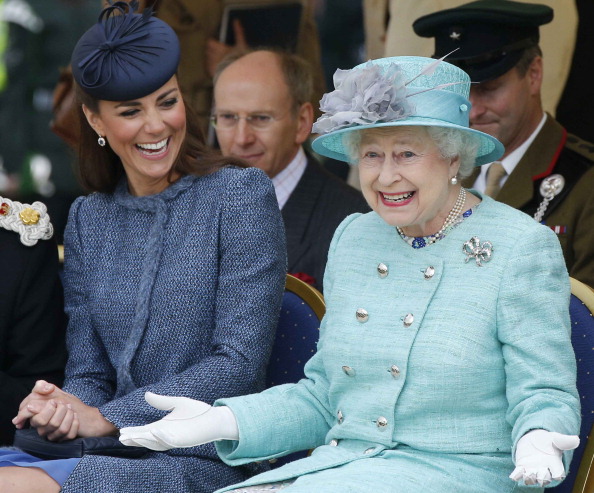 Oh I did promise to reveal what the Queen actually said in her speech. But today is not that day. One is tired and must avoid the stairs at all costs. Now, which way to the lift?
Cheers